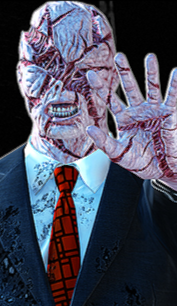 The False Administrator is the main antagonist of the two-part dlc The Assignment and The Consequence for the survival horror game The Evil Within.
Description
Edit
The False Administrator is a manifestation of multiple character's memories of the real Administrator, within the STEM system. The real Administrator uses this manifestation to make the characters aware of their fears of him, and to taunt them and give them orders.
Relationship to Slender Man
Edit
The False Administrator has been noted by several fans to bear numerous similarities to Slender Man. His face is often obstructed, he is tall and pale, he wears a black business suit, and at some points he even appear to have tendrils similar to those of Slender Man. He also possesses many supernatural powers, some of which Slender Man is also known for, such as teleportation.
Also like Slender Man, he stalks his victim continually. In the game, he also tries to get Juli Kidman to bring him a child victim.
SPOILER WARNING. VIDEOS CONTAIN SPOILERS. YOU HAVE BEEN WARNED.
External Links
Edit