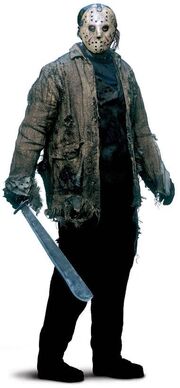 Jason Voorhees is the main antagonist of the majority of the Friday the 13th franchise, and a well-known horror icon.
Relation to Slender Man
Edit
Rather than having much in common with Slender Man like most articles on this wiki, Jason has an article because he bears similarities to many proxies, and may have influenced the designs of many proxies, including fan-made ones such as Rouge, who wears a similar mask. Jason also does bear similarities to Masky and Hoody from Marble Hornets, wearing a similar mask.
Like Slender Man, he stalks his victims in the woods, is a silent antagonist, and the two both are shown to be fairly invincible
Similarly to Freddy Krueger, fans have created fan-works depicting him battling Slender Man.
Ad blocker interference detected!
Wikia is a free-to-use site that makes money from advertising. We have a modified experience for viewers using ad blockers

Wikia is not accessible if you've made further modifications. Remove the custom ad blocker rule(s) and the page will load as expected.